School is starting soon (if it hasn't already!) which means it's time to try and get organised for once, even though you know you'll probably give up in a week or so. I thought I'd make a post about some of my favourite supplies for bullet journaling for those of you that were interested in starting your own bullet journal or were looking for a bit of inspiration!
Obviously the most important part of any bullet journal is the actual journal itself. Which one you gets totally depends on how you want to structure your bullet journal; do you want to be totally creative with it or is it just a collection of lists? Either way, I've put together a list of some of my favourite notebooks for bullet journaling!
Leuchtturm1917 – if you have a studygram or a studyblr then you have probably seen these around a lot. They're definitely the most popular type of bullet journal and I understand why. There's tonnes of flexibility with colours, paper type and you can even get one that is structured for you to use as a bullet journal. I'm currently using this one and I absolutely love it because it has a contents page and a little pocket at the back for anything I haven't had chance to put in yet!
Moleskine – these notebooks are very similar to Leuchtturm1917 but they have a little bit more variety with the designs and layouts so it just depends what you're looking for. I absolutely love this Beauty and the Beast one however the special edition notebooks are quite a bit more expensive than the Leuchtturm1917 notebooks so you might want to bear that in mind if you're not committed to a bullet journal yet.
MUJI – another studygram favourite is this MUJI notebook, it's quite cheap so it's perfect for people who don't want to commit to an expensive notebook yet. It comes with dotted paper so you can have the freedom to design your spreads as you like and it comes with a handy pocket on the front for storing things.
Whitelines – if you're looking for something a bit different then I totally recommend a Whitelines Link notebook! These notebooks allow you to scan your pages into your phone so that you can access them on the go, I've used them to make revision notes in the past because you can automatically get it sent to your Dropbox or email by ticking the box. It even comes in a Leuchtturm1917 notebook version so you can have the best of both worlds!
It seems like every studygram and studyblr has a million different types of markers so it can be difficult to decide which are the best for using in your bullet journal. Don't worry, I've put together a list of some of my favourite pens that I've used in my own bullet journal!
Mildliners – these are the stereotypical studygram pens that everyone seems to have. I've used these for titles and for highlighting things in my weekly spreads but they're great for adding accents to things too. If you don't feel like buying all three sets (or four if you can manage to find the fourth set) without trying them out first then my personal favourite set is this set of cooler colours however most are too dark for highlighting so be warned.
Crayola Supertips – if you want a wider range of colours that are better value for money then I totally recommend the Crayola Supertips pens because there are so many colours and they're not very expensive. I've used my set for about 3 years now and they haven't even started to run out yet so you won't have to replace them any time soon! You can also use a lot of them as highlighters as the colours are really light so they're definitely versatile.
Stabilo Boss Pastel Highlighters – I recently bought these because I thought they looked adorable (I know that's not a good reason to buy something but oh well) and I absolutely love them. Whilst they don't have a pen side like the mildliners they are equally as pretty in terms of colours.
Tombow ABT Dual Brush Pens – these are definitely on the expensive side so I wouldn't recommend them unless you've had some experience with brush pens as you don't want to have to replace them very often. I have two packs of these and I do use them a lot in my bullet journal spreads for quotes, titles and for adding details with the felt tip end.
Pilot Frixion Colours Erasable Pens – I haven't had the chance to try these (I desperately want to though!) so I can't really say a lot about them. I do like the fact that they're erasable because it's really frustrating to ruin a beautiful spread with one tiny mistake that you can rub out.
If you're anything like me you probably own dozens of different types of pens (which are all very different so you definitely need all of them) but if you don't, don't worry. Everyone has their own favourite type of pen so I've tried to include a variety of brands and styles in this list!
Stabilo Point 88 Fineliners – these are my absolute favourite pens, I use them for all of my notes and I have done for years! There is a massive variety of colours and they last quite a long time (well providing you don't use them so much that you wear down the tips like I do). I totally recommend to anyone who is looking for some good quality fineliners!
Staedtler Triplus Fineliners – these are my other favourite pens for bullet journaling! They're pretty similar to the Stabilo ones except they come in a different set of colours (I actually prefer the colours of the majority of the Staedtler pens). I honestly don't know why I prefer the Stabilo ones since they're both very similar, I think it's just loyalty to the Stabilo fineliners at this point.
MUJI Gel Ink Pens – I've owned these for well over a year now and I still don't really understand why they're a studygram favourite. The colours are cute however the ink doesn't always flow smoothly which is annoying. They have recently been updated to have a cool clip mechanism on the lid so it'll clip to your notebook and the ink supposedly runs smoother now.
Zebra Sarasa Pens – these weren't originally going to be on my list but it seems that they've discontinued the Pilot Juice Gel Pens (either that or they've just disappeared from existence). These are pretty much identical to the Pilot pens anyway and I just like the colours really and I like that their lid is a clip so it hangs off your notebook. There's also a very cute pastel set which I really want to buy!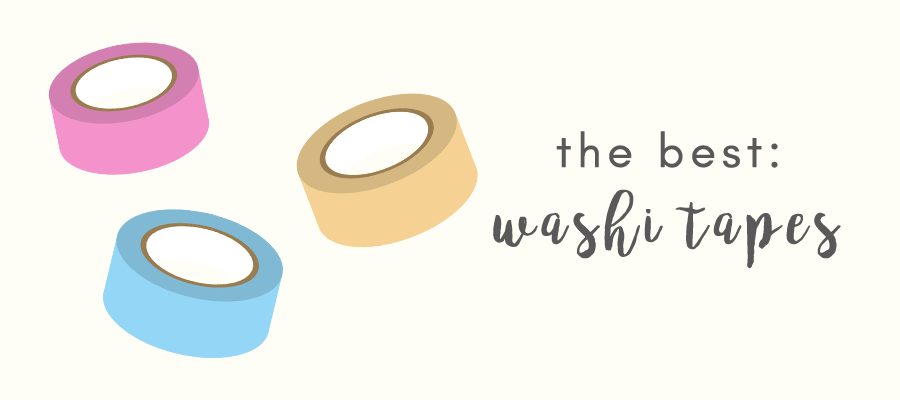 Washi tapes are one of my guilty pleasures because I know that they don't really serve a purpose but they look pretty. Many people use them in their weekly spreads to add a bit of colour or to stick in other relevant things. Here are some of my favourite brands/sites for buying washi tapes for my bullet journal!
Kawaii Pen Shop – these have loads of super cute washi tapes at a relatively cheap price! I personally love this vintage flowers one because it'd look adorable in a summer themed spread. If you want 10% off use the code EMILY10 when you checkout!
MT – their designs are some of my favourites, especially their metallic ones like this one however they are a little more expensive and probably are no better than the cheaper washi tapes on other sites.
Cwlcrafts – I was lucky enough to receive a selection of their washi tapes a few months ago and I absolutely love them! I use this copper triangle tape all the time in my bullet journal for my copper themed spreads and it looks amazing.
Masking Sticker Set – if you want a variety of designs without having to buy dozens of washi tapes (which is probably sensible) then I recommend the masking sticker sets! They have 27 different sheets in each pack and mine came in a very cute tin (they were so cute that my mum has stolen them!) so they're perfect for people without a lot of room.
NOTE: the store that I linked to has a few different types but if you just search masking sticker set on Etsy and Amazon there are a few other sets as well
These are just some of the products that I think are perfect for bullet journaling, if you have any other favourites then tell me about them in the comments and I'll add them to my list! For more bullet journal inspiration check out my bullet journaling Pinterest board below!
This post contains affiliate links which means I receive a small amount of money for anything you buy through them at no extra cost to you.