As university open days start to roll around, I thought I'd take the time to *try* and answer one of the big questions that students usually have when thinking about medicine. Obviously I'm no expert, but hopefully, I'll be able to give you a few things to think about and help you on your way to making your decision!
Here's a quick directory so you can skip to the parts that you're more curious about if you want to (or just read all of it & learn more!)
Common Concerns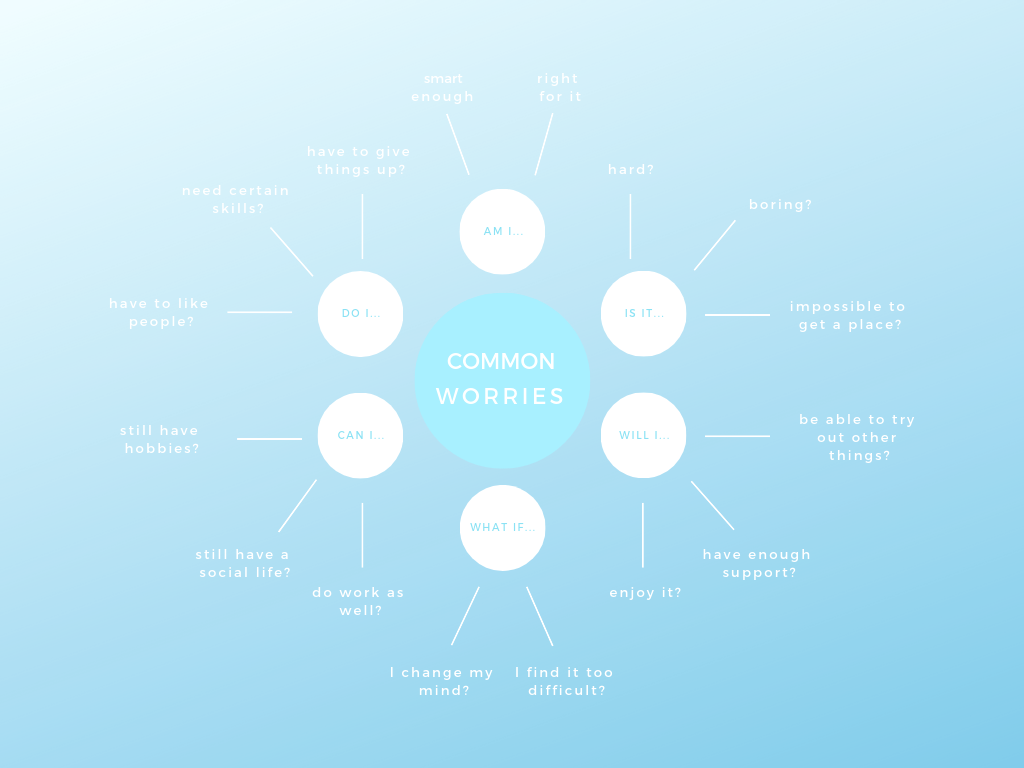 When looking into medicine, there are a few things that people tend to worry about regarding various aspects of the course, its requirements along with what it's like to work in medicine. Obviously, individuals will also have their own concerns depending on their preferences but I'm going to cover the main ones that I've come across when talking to other students and that I considered myself.
The workload:
Everyone knows that the workload at medical school is pretty rough and depending on the university that you're at, you might not even get things like reading week! Whilst it's not impossible (with good time management and study skills), it's definitely something that can put people off applying to medical school.
Some of the most common worries that people usually have in relation to the workload are linked to the amount of it, its level of difficulty and whether they will find it enjoyable. All of these are perfectly valid concerns, but hopefully, I'll be able to put your mind at ease in this post or at least give you a bit more of an insight into what it's like in reality.
Course requirements:
Medical school has gained a reputation for being one of (if not the most) competitive university courses out there. This means that people tend to worry about whether they'll be good enough to even get a spot in the first place, let alone qualify and become a doctor!
Whilst there is definitely an element of intelligence and grades when applying for medical school, there are many other characteristics that medical schools look for in their applicants as these are also essential if you want to become a doctor. Many of the so-called ideal traits for medical students are just myths based on stereotypes after all!
Working in medicine:
From the outside it can seem like medical school only opens up one path for you and this can be pretty concerning for a student looking to apply for medical school – after all, you never know what you'll want to be in 5 years and the idea of "what if" can be quite terrifying!
Although the career options may seem limited upon first glance, hopefully this blog post will show that in reality it's the total opposite!
Now we've established what some of the most common worries are about medical school, it's time to debunk (or maybe just explain!)
The Workload
As I mentioned above, this is one of the biggest concerns for prospective medical students. Fortunately, many of these worries are also based on myths that are definitely not true!
The Requirements
I've spoken to a lot of students who worry that they're just not right for medical school – whether that's because they think they're not smart enough or just because they feel like they don't have the right personality. Whilst there are definitely certain personality traits that will make medical school easier, it doesn't mean you'll automatically fail if you don't have them!
The Long-Term Career
Unlike most other university courses, medicine comes with an assumed career path in mind. Whilst some people will follow the set path of 'medical student, junior doctor and eventually consultant', there are also many others who choose to take completely different paths once they've finished their degree.
So What Now?
Hopefully this blog post has answered a few of your questions, although it's pretty likely that it's actually left you with some new ones. You can only really decide if medical school is right for you by doing your own research and seeing if you like the different aspects of it.
There are a few places to start, including books written by doctors (I've posted about my favourites before here!), talking to any doctors or medical students that you might know, blogs/YouTube channels as well as trying to get experience for yourself. I've written about how to find work experience in this post if you're struggling to get it.
If you don't really have any medical students around you that you can chat with, here's a list of some of my favourite medical studygrammers who might be able to answer your questions (as long as you're nice to them!)
In case there are any other medical myths that I didn't get around to debunking, here are a few other blog posts that should help to set things straight!
If you have any lingering questions that you can't get answers to, feel free to DM me on Instagram or email me below – I can't promise that I'll have the answer but I will do my best to help you out!
Thank you for reading to the end of this endless post (will I ever be able to write short blogs??) and good luck with your future, whether that's in medicine or something completely different!
(header image from here)